Number 3 in the series concerns a man who, although not a botanist, was of the greatest importance through his munificence in creating one of the leading centers for botanical study in the United States. Born in Sheffield, England in 1800, he brought more than a bit of Chatsworth (the seat of the Dukes of Devonshire where Joseph Paxton was head-gardener) which so impressed him, to his adopted midwest city.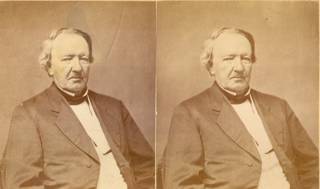 WHO IS THIS GENTLEMAN (Ætat 77)?
Click on image to enlarge
Click HERE for the ID on the matte of the July 4, 1877 stereoview.


Still can't read it? Click HERE for the ID (

Image #34

) on the verso of the BOEHL & KOENIG (

Emil Boehl & Lorenz H. Koenig; working dates 1861-1878

) stereoview.


HERE is an 1871 signed letter by the person pictured. The Missouri Botanical Garden's archivist has been unable to find any information regarding the addressee (Dr. Barnum), or Mr. Fern, the florist mentioned in the letter. Click HERE for a BOEHL & KOENIG stereoview (

Image #7

) of Tower Grove mansion, the residence (

built in 1849

) of our subject, from where this letter was written.


Click HERE for a biography of our subject.